Reiki Master - Interdimensional Medium - Spiritual Coach
Karolina Kaplan
Welcome to the english version of my website Du Vinner! My name is Karolina Kaplan and I´m an interdimensional medium and Reiki Master. I am based in Sweden but I take on clients online from all over the world. I do readings, spiritual coaching and healing. I speak english and swedish. For online calls I use Zoom and Facebook messenger. I also do distance Reiki treatments and Angelic healing.

Please contact me if you have any questions!
E-mail: karolina@duvinner.nu
Angelic healing or Reiki
distance healing:
20 minutes - 350 SEK
45 minutes - 750 SEK
Phsycic Reading online call:
30 minutes - 400 SEK
60 minutes - 750 SEK
Energy reading or Relationship reading
you'll get your written reading sent to you by e-mail (2-3 pages) - 450 SEK
100 SEK = 10 € (Ca)

Pricing and Payments:
I use Pay Pal for international transactions. You can also pay by credit card over a safe link from Zettle.
Please let me know your preffered method
when making a booking enquiry.
Your invoice will be sent to you by e-mail.
I pay my taxes in Sweden.

Online reservation
Suggest a time and date. We will confirm your reservation via email.
Due to different time zones, I will need to know your current location (country/region) to be able to schedule correctly.
---
My name is Karolina Kaplan and I´m a Reiki Master and Medium (it´s not a job it´s a life style). I am also a trained Behavioral Scientist. I will help you find your way back to your inner source of power, the one where it all begins and where yout right answers are. To meet a person who has begun to discover that something is missing in their life, that is where I am at my best. There are the clues to the inner driving force. If you have found me, you probably have a desire for change in your life, or maybe you are just curious and want to read a little more about what I do and who I am. Whatever your reason, I am happy you are here!
My own journey
I used to work at a job that drained me of energy, I did not get enough time for recovery and to compensate for this I reduced the activities I had previously felt good about. I thought I needed to spend all my free time resting, so that I could cope with my work. I stopped meeting friends and family more and more, I stopped attending various events, declined invitations I received from those I actually wanted to hang out with and just stayed at home. All to rest so I would be able to work later. In the end, there was not much left to enjoy in my life, everything I did revolved around a job I did not even like. I did not feel well. It became unbearable!

When I finally changed my priorities and started taking myself seriously, I came to the realization of what is actually important in life. I began to understand that if I do not take care of myself and do more of what makes me happy, then my life will not feel especially meaningful at all!
Today I live the life I want to live. I work in my own company and manage the time myself, I work with something that I actually love doing and that feels meaningful to me. Above all - I prioritize doing things for myself and I do not have a bad conscience, because I know that it is the very precondition for me to feel good and also be able to do a good job. My wish is that I can inspire you to take yourself seriously and understand that you are worth THE BEST!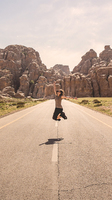 ---
Courses and training

Bachelor in psychology, Stockholm University and Blekinge Technical college
Business Administration and Business Accounting , Stockholm University

Weekend - Course in trance mediumship with Bill Thompson from Arthur Findlay College.
Reiki Master. CH Spirituellt. Certified.

Past lives Regression therapist. CH spirituellt. Diploma.
Esoteric Mediumship step 1, 2, 3 ,4, 5 (out of 7) with Oceania Academy. Going towards certification in april 2021.


Expand ( 12 week course) with Eva-Karin Wallin

Jag arbetar under sekretess och enligt Patientsäkerhetslagen. Innehar F-skattesedel och ansvarsförsäkring.
Org.nr: 800603-0061
Bank Giro: 5542-6860